Structures
Membership
Contact us

IGTF
APGridPMA
TAGPMA
REFEDS
SCI
WISE
Documents
Charter
Guidelines
One Statement Policies
CAOPS-WG
Wiki
Technical Info
CA Distribution download
Subject Locator
Find your local CA
About your certificate
Newsletter issues
Subscribe
Service notices
Tools download and fetch-crl
Technical documentation
IGTF OID Registry
SHA-2 timeline
Meetings
Copenhagen, DK, January 29, 2024
adjecent to TIIME Unconference
Abingdon, UK, Oct 4-5, 2023
Overview
Agendas
Intranet and Reviews

EUGridPMA Clickable Map of Authorities
The EUGridPMA itself does not issue certificates. It coordinates national and regional authorities that do the actual certificate issuing to end entities. Please select your country from the map below to be redirected to your local issuing certification authority. If your country is not located on the European continent, go to your appropriate regional PMA (see below) or have a look at the full plain-text Authorities list.
---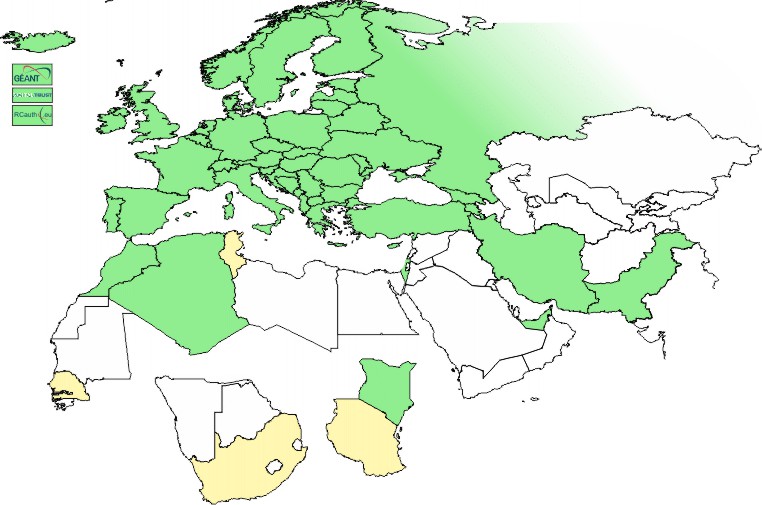 ---
Authorities not listed on the map
Identity credential providers elsewhere in the world
LHC Computing Grid catch-all - courtesy of the CILogon OSG CA.
Only for those who are absolutely not covered by a national CA; wLCG accepts any IGTF accredited authority for identification.
---
Comments to David Groep. This site is hosted at Nikhef, subject to the privacy policy.