Nicosia Meeting
Nicosia
Registrations
Participants
Other Meetings
Overview
All agendas
EDG CACG Agendas
15th EUGridPMA Meeting, Nicosia, CY

and

The 15th EUGridPMA meeting will take place in Nicosia from Monday January 26 till the 28st, 2008 and is gratiously hosted by the CyGrid CA and the University of Cyprus, and sponsored by University of Cyprus Department of Computer Science and NEW CYTECH.

Notice: attendence to the meeting is restricted to members of the EUGridPMA, APGridPMA and TAGPMA, and to those that have started their accreditation process. Otherwise, attendance is by invitation only.
When
Monday Jan 26 , 09:15 till Wednesday 28st, 15:00, 2009
Where
UCY, Nicosia, CY
Registration
Required via this web page**
(**) Only members of a PMA and confirmed applicants can register, others should send a request to the chair.
Andreas has selected two hotels for us with a special EUGridPMA rate:
Holiday Inn (Eur 110 single / 135 double) - see http://www.holiday-inn.com/nicosiacyprus
Castelli Hotel (Eur 85 single / 105 double)
Reservations can be made directly via email: reservations@kennedy-hotels.com. Booking code EUGridPMA15 must be provided in order to take advantage of the above prices. For any inquiries regarding accommodation please contact Dora Papacosta at dp@kennedy-hotels.com or +357 22712777. Hotels are next to each other and we can arrange a mini bus for transportation to/from meeting place.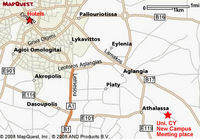 Related material
---
Comments to David Groep.